Cannes Yachting Festival
September 12

-

September 16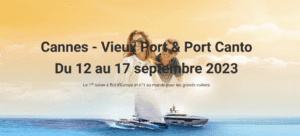 The Cannes Yachting Festival is one of the world's most prestigious nautical events and the largest in-water Mediterranean yacht shows. Set in the heart of the French Riviera, the Cannes Yachting Festival is a six-day celebration of all things boating. The nautical event regularly attracts more than 50,000 visitors eager to explore the latest boats, tenders, and luxury lifestyles.
The vessels on display in Cannes range from 3 to 50 meters in length, with many prestigious brands offering daily sea trials on board some of the most exciting new launches. Some of the boat builders in Cannes last year included Baglietto, Cantiere Delle Marche (CDM), Gulf Craft, Pearl Yachts, Princess Yachts, Sanlorenzo, Sunreef Yachts and Van der Valk Yachts.
Not to be missed, the yachting festival promises to deliver a wide range of activities, including seminars, competitions, and demonstrations. Visitors can experience the latest trends in boating technology and discover the best in contemporary and vintage boats, giving attendees a chance to learn more about the industry.
Stay up to date with the latest Cannes Yachting Festival 2023 news on the Cannes yacht show website.